Pumpkin Kernels 250g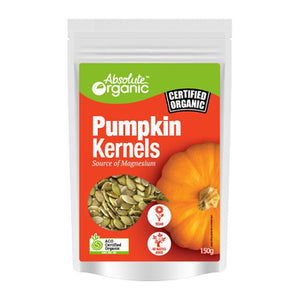 "These organic pumpkin kernels are perfect on salads, in soups, or even blended into their own butter!

These are the inner part of edible pumpkin seeds that have been hulled of their outer skin. Originally from Central America, they have been eaten raw or roasted for centuries. These raw organic pumpkin kernels are a dark green colour, with a light nutty flavour and aroma. They have no added preservative or anything artificial and are non GMO. Organic pumpkin kernels are a scrumptious and convenient snack that everyone can enjoy. They are also a great addition to breakfast cereals, baked goods, raw foods and savoury dishes."
Certified organic pumpkin kernels