Sourdough Pizza Bases 3 pack Lge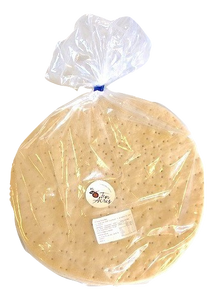 "Organic sourdough pizza? Yes please!

We've even got a selection of the best organic pizza toppings to go with them.

Ten Acres handcrafted sourdough bases are from Ninderry, and are made from the finest organic and sustainable Australian flour, filtered rain water, their own sourdough starter and sea salt. Made from scratch, they harness the naturally occurring wild yeasts in the flour and slowly ferment our dough using age-old methods. This produces the best tasting, healthiest and most nutritious sourdough possible. This sourdough base contains no added yeast, bread improvers or additives and is free from chemicals."