Toothbrush Bideogradeable Adult 4pck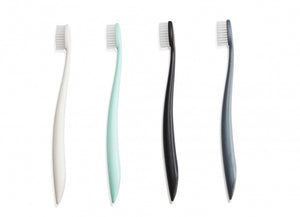 "This will change the way you brush your teeth.

The Go Bamboo toothbrush comes in adult and child sizes. The handle is made of natural bamboo (not a bamboo laminate) sealed with an edible wax and the bristles are soft to medium stiffness, and they clean your teeth really well. The toothbrush comes packaged in a sealed recycled cardboard box. When disposing of your toothbrush, stick it in the compost and it will go eventually. A favourite method to date is to nail it vertically into the lawn, gone! No guilt disposal!"
Biodegradable, non-GMO cornstarch. The bristles are made from BPA free nylon.