Yoghurt Greek Barambah Organics 500g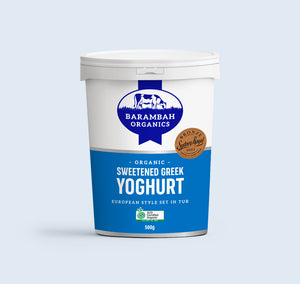 This yoghurt is perfectly farm fresh...

A wonderfully creamy yoghurt, with layer of cream on top due to the yoghurt being unhomogenised. This multi-award winning yoghurt is perfect to cook with or great to have on its own. Awards include Silver at both the 2011 Sydney Royal Cheese and Dairy Awards and the Queensland Royal Food & Wine Show (EKKA) and a finalist at the 2009 Vogue Produce Awards. Barambah Organics is from North Brisbane.
Certified Organic Unhomgenised Milk, Certified Organic Cream, Certified Organic Non-Fat Milk Solids, Certified Organic Honey, Certified Organic Sugar, Live Cultures