Bennetto Salted Caramel in Dark Chocolate 100G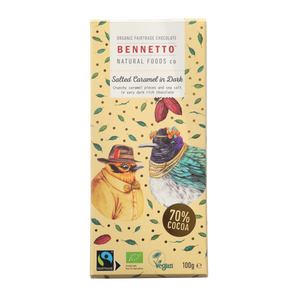 One for all the caramel lovers out there, introducing our Salted Caramel in Dark 100g chocolate bar. Organic vegan caramel made from almond butter, and no added flavour enhances has brings this salty delight to life. The smooth taste of organic dark chocolate paired with crunchy caramel pieces is perfectly balanced with a touch of salt.

Cocoa beans*, Raw Cane Sugar, Caramel pieces (17%)* (Raw Cane Sugar, Almonds & Almond Butter), Cocoa Butter*, Sea Salt (0.8%)
* Organically grown. Cocoa 70 & minimum.