Canned Cherry Tomatoes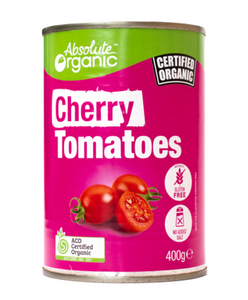 A NEW ADDITION TO OUR TOMATO RANGE! Our soft and succulent Absolute Organic Cherry Tomatoes are grown in Italy. They come immersed in pure tomato juice with a fragrant aroma, delicious taste, and slightly sweeter flavour than regular tomatoes.
Our cherry tomatoes are unpeeled, their thin skin holds shape well during cooking – a perfect ingredient in tomato-based Italian, and seafood recipes, pasta sauces.
Whole cherry tomatoes* (60%), tomato juice* (40%). *Certified Organic