Cheese Cheddar 250g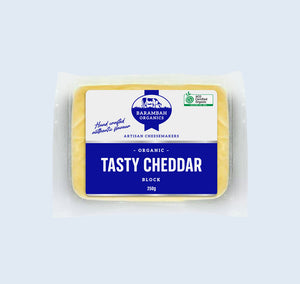 Barambah Organics' Dumaresq River Cheddar is a rich and tasty cheddar with a lingering finish.

Barambah Organics began in 2002 after Ian Campbell converted his fourth-generation family farm, Spring Creek in 1999 to organic status with Australian Certified Organic. The family has been farming at Spring Creek since 1912. The farming operation moved to the Goondiwindi region on the Dumaresq River System in 2006 in order to secure access to reliable water, and the cows are now thriving in this location.

The cows feed on predominantly grasses and legumes, supplemented with grains and minerals at milking times.

This product is certified organic by ACO.

Certified Organic Unhomgenised Milk, Non-Animal Rennet, Cultures