Stainless Steel Clothes Pegs 40 Pack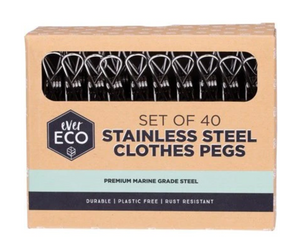 Ulta durable, weather-proof, rust-resistant and plastic-free!

59mm length

316 marine grade stainless steel in strong 2mm thickness

Rust-resistant and suitable for coastal environments

Plastic-free packaging

Lifetime purchase - save waste and money
Ever Eco Stainless Steel Clothes Pegs are made with premium 316 marine grade stainless steel in a strong 2mm thickness that holds up in windy conditions or with heavier items like blankets. Each peg is 59mm in length.
These pegs are designed to be a once-only purchase set to last a lifetime - which replaces countless packs of plastic pegs that become brittle and crumble over time. Not only does this save on plastic waste, but it also saves you money too!