Floor Cleaner Mandarin & Peppermint - Koala Eco 500ml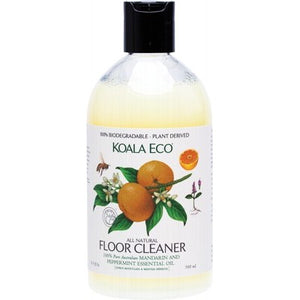 "Here's how to clean floors the healthy way...

Koala Eco Floor Cleaner, with a delicious natural Mandarin & Peppermint scent, combines natures most aromatic antiseptics in one powerful, anti-bacterial formula. It effortlessly cuts through grime without the harsh chemicals and is safe to use on any surface.

This cleaner is 100% environmentally friendly, non-toxic, vegan, palm oil free, grey water safe and free from dyes, masking agents, chlorine, bleach, sodium and synthetic perfumes."
100% pure Mandarin (Citrus reticulata) and Peppermint (Mentha piperita) essential oils, purified water (Aqua), petro-chemical free eco-solvent, plant-derived surfactants, plant-derived solubiliser, glycerin, plant-derived preservative, Potassium sorbate (food grade salt preservative)