Kefir Pineapple, Passionfruit, lime & Mint 750ml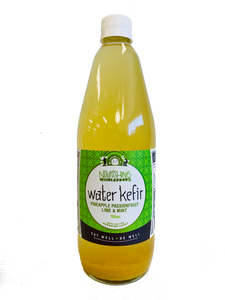 "Nourishing Wholefoods Kefitr will change the way you drink your probiotiocs.

Small batches are brewed using filtered rainwater and local, organic ingredients. Water kefir is a live cultured drink rich in enzymes and teeming with life! Pineapple, passionfruit, lime and mind lends a decidedly tropical flavour to this drink.

I COME IN TWO SIZES 330ML & 750ML"
Raw organic water kefir (85%) (filtered rain water, organic raw sugar, organic coconut sugar, water kefir culture, bicarbonate of soda), pineapple (10%), passionfruit (4%), lime juice (<1%), mint (<1%), love.