Laundry Liquid Kin Kin Lavender 1.05kg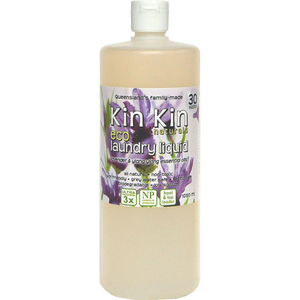 "This laundry liquid will send you to sleep in no time...

All natural, family made in Queensland and it works amazingly! Perfectly safe for people and the planet, including grey water and septic tanks. Economical ultra concentrated, with no need to use more than 35ml per full load.

Made with love in the green and serene Kin Kin, in the Noosa Hinterland."
Coconut-based anionic and nonionic surfactants (NO alcohol ethoxylate, LAS or SLS),  rain water,  potassium coconut soap, potassium citrate, enzymes, lavender essential oil, organic ylang ylang essential oil, rose geranium essential oil, organic lemon myrtle essential oil.