Turban Chopsticks Paste Yellow Curry 240g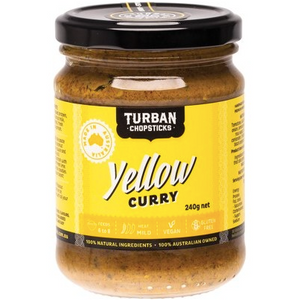 When you're looking for the perfect organic curry base, this yellow curry paste pulls out all the stops.

Add this paste to any curry to add depth of flavour and create a nourishing heart-warming mild curry. Simply stir-fry with chickpeas and vegetables for an aromatic side dish or use as a marinade with all your favourite ingredients to fry or bake. No bland flavours here and it's better than take out!
Tomatoes, Australian canola oil (GMO free), onion, lemongrass, water, galangal, garlic, raw sugar, salt, fresh roasted spices, coriander, chillies, ginger, pandan, vinegar, black pepper, kaffir lime and turmeric.