Patch Kids Bamboo Bandages 25 pack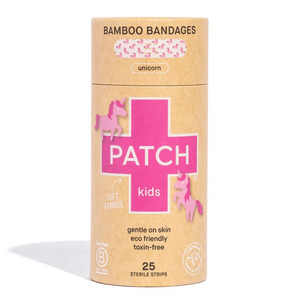 Brave little adventure warriors need PATCH by their side!
We take pride in using natural, organic, biodegradable and sustainable resources that are historically proven to soothe symptoms, whilst promoting wound recovery for even the most sensitive skin types.
Made with super soft bamboo fabric and a gentle, non-toxic adhesive to help PATCH you up, so you can get on with your adventures. PATCH is a natural, breathable and hypoallergenic strip bandage designed to help your skin after life's little accidents.
Let's not forget the cute unicorn print, designed to comfort children in life's little emergencies.