Yoghurt Blueberry Barambah Organics 500g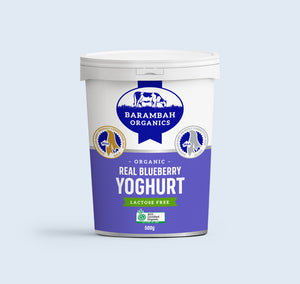 This is the freshest fruit yoghurt you'll find anywhere in Queensland.

Barambah Organics use pure blueberry puree in their Real Blueberry Yoghurt. Bursting with antioxidants and vitamins, it's a healthy, satisfying yoghurt.

This yoghurt is 100% certified organic, has no chemicals or pesticides, is non-GMO, has no preservatives and is gluten-free.

Certified Organic Unhomgenised Milk, Certified Organic Non-Fat Milk Solids, Certified Organic Blueberries (12%), Certified Organic Sugar, Maize Starch, Flavor (Natural), Live Cultures