Milk Bonsoy 1l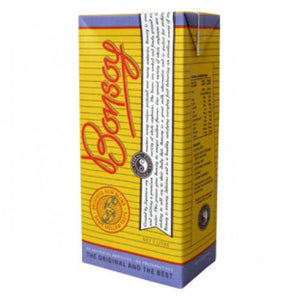 Creamy. Delicious. Healthy!

Bonsoy is created from organic soybeans that are processed to the highest standard, helping deliver the best that nature has to offer. Bonsoy is a natural, full bodied soymilk with a subtle smooth "Trademark" flavour and is an excellent source of quality vegetable protein.

Created by Japanese soy masters using recipes perfected over many centuries, Bonsoy uses only a premium variety of soybeans. The beans are cooked finely ground with purified hot water, a process which gives Bonsoy its unique mellow flavour. This special variety of whole soybeans are ideal for people wishing to add soy to their daily diet.

Bonsoy is a great milk alternative and can be enjoyed straight from the pack, in your coffee and smoothies, and is a perfect milk substitute in your favourite baking and cooking recipes. Because of the perfect texture, Bonsoy is the preferred milk by baristas everywhere.

No added preservatives, colours, flavours, chemicals gum or oils, just 100% plant-based protein goodness.

Filtered Water, Organic Whole Soybeans Min 14% (Certif, Usda, Nop), Tapioca Syrup, Sea Salt, Job's Tears (Hato Mugi), Calcium Carbonate.